Home » Posts tagged 'climate negotiations'
Tag Archives:
climate negotiations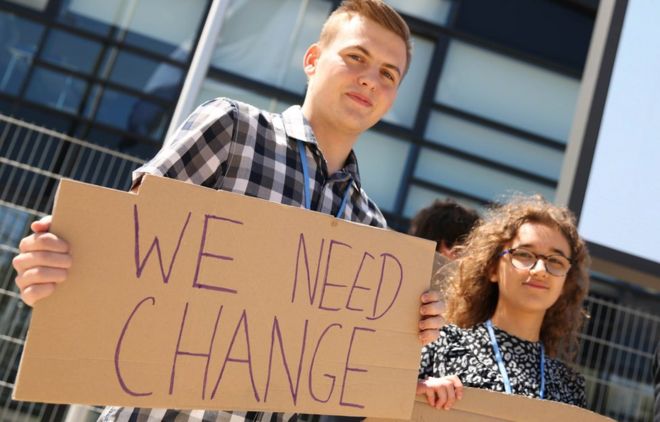 A "triple whammy" of events threatens to hamper efforts to tackle climate change say UN delegates.
At a meeting in Bonn, Saudi Arabia has continued to object to a key IPCC scientific report that urges drastic cuts in carbon emissions.
Added to that, the EU has so far failed to agree to a long term net zero emissions target.
Thirdly, a draft text from the G20 summit in Japan later this week waters down commitments to tackle warming.
One attendee in Bonn said that, taken together, the moves represented a fierce backlash from countries with strong fossil fuel interests.
There was controversy last December at the Katowice COP24 meeting in Poland, when Saudi Arabia, the US, Kuwait and Russia objected to moves to welcome the findings of the IPCC Special Report on 1.5C.
That study, regarded as a landmark, had two clear messages.
It showed that there were huge benefits in keeping temperature rises this century to 1.5C compared to a world that warmed 2C or more.
It also said that keeping the world below 1.5C was still possible, if drastic cuts in emissions were initiated by 2030.
To the frustration of a huge majority of countries, the objections of the four major fossil fuel producers, meant that the scientific report was not formally recognised in the negotiations.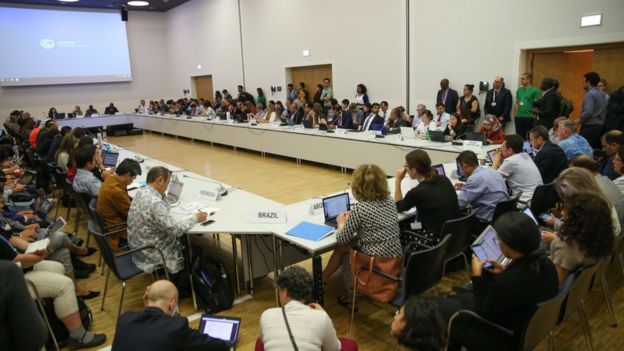 The battle over the 1.5C report has carried over from Katowice to Bonn. Normally, this mid-year meeting is concerned with technical questions but this time the issue of the IPCC has re-emerged as a huge fault line between nations.
The Saudis are keen to highlight what are termed "knowledge gaps" in the IPCC report, that they believe hamper its ability to inform decision making at national or international level.
"We know that there are some hardliners that would try to downplay the seriousness and the actions that are required, that is their point of view," said Carlos Fuller from Belize, the lead negotiator for the Alliance of Small Island States.

"They recognise that they need to undertake major changes that they are not happy about."
Many environmental campaigners see the Saudi pressure on the IPCC as part of campaign to discredit the science.
"The report shows the importance of striving towards 1.5C, that it is still achievable, and there is an incredible urgency to act vigorously and quickly," said Dr Jeni Miller from the Global Climate and Health Alliance.

"This report was requested by the UN, by these countries themselves, so to not accept the findings of the report is a rejection of science, and if you are rejecting the science there is not a way forward to address this problem."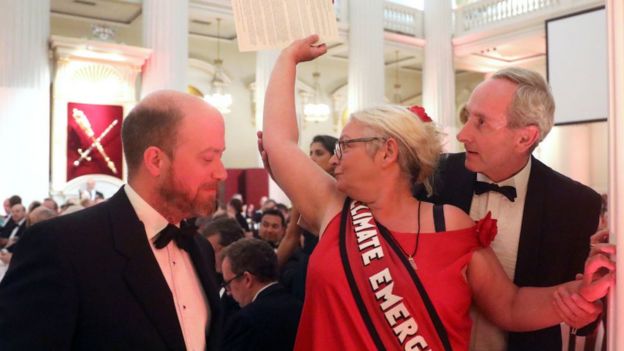 While delegates seek to find a way forward on the science, there is growing concern about the European Union's inability to reach consensus on cutting carbon emissions to net zero by 2050.
Despite the late support of Germany in favour of the idea, four countries including Poland, Hungary, Czech Republic and Estonia, refused to support the plan last week.
This has caused some dismay among officials at the UN.
The Secretary General, António Guterres, has called a special summit on climate change to be held in New York in September with the express purpose of getting countries to increase their existing targets.
The EU's proposed net zero goal was key to making this a success.
Mr Guterres has expressed his "personal concern" about the setback. Campaigners are also worried.
"The EU are very aware of the Secretary General's summit, they are aware they are calling for a revision of targets, it would be embarrassing for the EU to go with what they just have now," said Ulriikka Aarnio, from the Climate Action Network.

"Somebody said they would be going from leader to loser if that was the case."
Contributing to the downbeat mood in Bonn is the forthcoming G20 meeting of global leaders in Osaka, Japan.
A draft of the closing communiqué mentions climate change as just one issue among many and omits to use the phrases "global warming" and "decarbonisation".
Critics believe that Japan is trying hard to win favour with the US on trade issues by downplaying the scale of the climate question and possible solutions to it.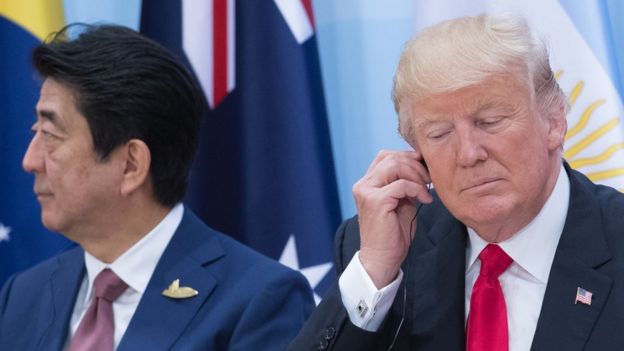 "The story, based on a draft of the communiqué, shows Prime Minister Shinzo Abe is a weak host and his G20 climate promises are full of hot air, undermining his previous claims that he seeks to save the planet." said Kimiko Hirata, director of the Kiko Network Japan, a non-governmental organisation.

"Japan, alongside China, is the biggest financier of coal overseas in the world and the government continues to build new coal plants domestically despite our huge solar and wind power potential."
As well as Japan, other leading economies are continuing to support coal based power generation. A study released by the Overseas Development Institutesays that G20 nations have almost tripled the subsidies given to coal fired plants in recent years, despite the growing need to cut emissions.
CREDIT: BBC News
The path towards the next agreement on climate change expected in Paris at the end of the year passed through the UNFCCC ADP 2.8 session in Geneva from 8 to 13 February. According to an informal note by the Co-Chairs of the Geneva session, the objective was to "mak[e] available a negotiating text for a protocol, another legal instrument or an agreed outcome with legal force under the Convention applicable to all Parties before May 2015″. The following analysis aims at underlining the role that the 2015 Climate Agreement to be adopted at COP 21 in Paris could play in mobilising climate finance. It was first published under the ICCG Reflections Publication Series. The full document is available in pdf.
The role of the 2015 agreement in mobilising climate finance
The improved coordination, greater coherence and enhanced transparency of the institutional climate finance arrangements are key issues under the 2015 climate agreement because they could contribute to mobilising increased levels of climate finance.
Enhanced transparency of climate finance is pivotal throughout the timeframe from initialising pledges and commitments to disbursing finance. Acquiring more consistent and reliable information on climate finance could help build trust among various stakeholders, including investors and the public sector. More transparent information could also help improve efficient and effective use of international climate finance, and therefore contribute to raising further international climate finance flows.
Measurement, reporting and verification (MRV) is an essential tool under the UNFCCC to produce and disseminate information on outcomes from particular climate finance instruments or funds, and therefore to ensure transparency. But there are still some challenges and gaps of MRV provisions and methodologies regarding the mobilisation and use of international climate finance. These challenges range from a lack of common definition of climate finance, the fact that not all types of climate finance are required to be reported, the problem in tracking private adaptation finance, and difficulties in attributing specific climate finance flows to certain countries.
To cope with these challenges, the Standing Committee on Finance was requested by the COP 20 in Lima, "as part of its ongoing work on measurement, reporting and verification of support, and with a view to recommending improvements to the methodologies for reporting financial information, to consider the findings and recommendations of the biennial assessment in its annual report to the Conference of the Parties for its consideration at its twenty-first session; and also, "in the context of its ongoing work, including the preparation of the biennial assessment and overview of climate finance flows, to further explore how it can enhance its work on the measurement, reporting and verification of support, based on best available information on the mobilization of various resources, including private and alternative resources, through public interventions.
The enhanced transparency under the 2015 climate agreement could contribute to mobilising climate finance in these following ways:
facilitating dialogue among all Parties to develop methodologies on what financial flows need to be measured, reported and verified under the agreement;
Using MRV as a tool to generate and disseminate information on results from specific climate financing instruments and funds;
In the end, more transparent information through international and domestic MRV processes could be useful resources for countries and private investors in making their financing decisions.
Another action that the 2015 agreement could undertake in order to mobilise effective climate finance is strengthening cooperation among international finance institutions. Concretely, the COP under 2015 climate agreement could encourage:
consideration for geographic and thematic balance in allocating climate finance;
facilitating coordination amongst institutions financing climate projects;
enhancing synergies between institutional arrangements outside and inside the UNFCCC.
The need for a more balanced allocation between mitigation and adaptation is clearly pointed out in the 2014 Global Landscape of Climate Finance by Climate Policy Initiative. According to the CPI Report, in 2013 annual global climate finance flows totaled approximately US$ 331 billion. Compared to 2012, mitigation finance has decreased, and finance for adaptation has grown. Adaptation received in 2013, US$ 25 billion (7 percent of total flows) of exclusively public resources, up US$ 3 billion from 2012. Private investments are not captured due to scarce and unreliable data. As already observed, the lack of transparent Information about private investment in adaptation remains one of the most important gaps in the tracking of climate finance. Although mitigation investments decreased by US$ 24 billion compared to 2012, mitigation accounted for 91 percent of total climate finance flows, totaling US$ 302 billion in 2013.
As for the geographic distribution of climate finance flows, they were split almost equally between developing (non-OECD) and developed (OECD) countries, US$ 165 billion and US$ 164 billion respectively. The good news reported by CPI Report about adaptation finance allocation is that about 90 percent of total adaptation finance was invested in non-OECD countries of which only 8 percent came from OECD countries. The East Asia and Pacific region has taken the lead in 2013 as the main destination of adaptation finance and the main recipient of Development Finance Institutions (DFIs).
The COP 21 under the 2015 climate agreement with a view to a better coordination among international financial institutions could encourage coordination among local financial institutions and relevant actors in a specific country, especially for effectively catalysing domestic investments.
As for the last point concerning enhancing synergies between institutional arrangements outside and inside the UNFCCC, the 2015 agreement could request entities under the Convention (e.g. the SCF and the GCF Board) to monitor climate-relevant financial flows channelled outside the Financial Mechanism. COP 20 Decision on the Fifth review of the Financial Mechanism recalls this idea for the GCF: "There is ample room for the GCF to learn from the experiences of other funds in terms of improving the enabling environments in recipient countries. It can do this by linking investments with focused efforts to engage stakeholders within countries in programming, and by providing technical assistance and capacity-building so as to strengthen enabling environments – institutions, policies, and regulations – that support mitigation and adaptation actions in developing countries."
The 2015 climate agreement could also play a role by facilitating the efficient use of financial instruments and tools. Which financial instrument is best suited for targeting different types of climate activities is highly case-specific. For example, instruments such as grants are very well suited for capacity building and for adaptation measures in most vulnerable countries, whereas concessional loans are best suited for projects with high risk-return profiles such as utility-scale renewable energy projects and power transmission grids. Other financial tools are better suited for attracting private sector finance in more mature markets, such as green bonds and equity.
The importance of a new bottom-up approach
The 2009 Copenhagen Climate Change Conference (COP 15) highlighted how the top-down approach adopted in climate negotiations and climate agreements had been a failure, and launched the new bottom-up approach. This approach has now become even more urgent and should be followed in the negotiations leading to the 2015 climate agreement.
The introduction of the Intended Nationally Determined Contributions (INDCs) at COP 19 in Warsaw was a clear signal that each nation is responsible for pledging its own contributions for post-2020 action. This means that each individual country (INDCs indeed refer both to developed and developing countries' plans) is being asked to come forward with its own ambitions and plans for carbon reduction. INDCs put forward by countries will form a key input to the negotiations leading towards the 2015 climate agreement. It is worth recalling that the minimum characteristics required for the INDCs are those of comprehensiveness, transparency, and ambition.
INDCs bring together elements of a bottom-up system, in which countries put forward their contributions in the context of their national priorities, circumstances and capabilities, with a top-down system, in which countries collectively aim to reduce global emissions. As a result, INDCs can create a constructive feedback loop between national and international decision-making on climate change.
Although the bottom-up system is positive in terms of raising consciousness on climate change issues, it may be risky for two reasons. The first is that without a defined target the risk of free riding is high, and the second is that it keeps the differentiation of responsibility for poorer countries not having the resources for undertaking climate actions. This risk is reinforced by the fact that the principle of common but differentiated responsibility has been kept in the Lima Call for Climate Action, and also by the consideration that the term "contribution" was the result of a compromise of the terms "commitment" used until then for developed countries and "nationally appropriate mitigation actions" (NAMAs), used until then for developing countries. Moreover, the fact that in COP 20 Decisions there is no mention of the division between Annex I and non-Annex I parties, but only a weak reference to different contributions "in light of different national circumstances" is not clear enough and could lead to weakening climate actions.
Conclusions
The need for scaling up climate finance has been widely acknowledged by all Conference of the Parties' countries, and this is recognised by the central debate at COP 20 around the role of the Green Climate Fund (GCF), with its initial capitalization under way, and its Private Sector Facility that will be a very useful tool for catalizing a significant multiplier effect in attracting private finance.
The recognition of the growing role of private finance, also due to constrained public budgets, encourages even further the strengthening of enabling environments conducive to private investors, better coordination at various levels, and the improvement of transparency by enhancing Measurement, Reporting and Verification (MRV) systems. Also, the role of Public-Private Partnerships should be strengthened and officially recalled in the climate agreement as one of the most useful tool for attracting private finance. Among more direct measures, the 2015 climate agreement could play a very important role in mandating the operating entities under the Convention, i.e. the GCF and the GEF, to prioritise some part of their funding to specific regions or countries, or issues where climate finance would not be directed automatically.
The 2015 climate agreement should definitely cope with this lack of transparency and better clarify the differentiation of responsibility in all fields of climate action, both in mitigation and adaptation. Moreover, the agreement should forge a clear link to the new set of Sustainable Development Goals (SDGs) that the world's governments are currently negotiating and that will be adopted at the "UN Summit for the adoption of the post-2015 development agenda" next 25-27 September in New York. The climate agreement and the SDGs should be seen as complementary, and lead to important opportunities for mutual benefits in areas such as the transition to a low carbon society, climate adaptation and resilience, and the new financial flows needed for both mitigation and adaptation actions.
Furthermore, a review of financial and insurance standards to promote long-term finance should be encouraged. Both Basel III and Solvency II should be reviewed to allow for a further mobilisation of private finance, especially towards needed energy infrastructure investment, which is usually long-term. Estimates by UNCTAD show that in climate change mitigation, and in particular in relevant infrastructures for renewable energy generation and research and deployment of climate friendly technologies, the total annual investment required between 2015 and 2030 is in the range of 550-850 US$ billion, and the annual investment gap is still very high, at 380-680 US$ billion.
In conclusion, although it is true that at COP 20 the debate was more on distributional issues i.e. how much will developing countries receive and how much will they contribute, rather than on efficiency issues and that "the Green Climate Fund will be far from covering both the required investments in adaptation, particularly in developing countries, and the costs to support the transition to a low-carbon economy", this reflections aims at highlighting some potential positive actions that the 2015 climate agreement could concretely undertake in the way forward to the longstanding debate on climate finance.
(Image: UN event on "Mobilizing Long-term Climate Finance for Developing Countries", 2011. Photo credit:UN Climate Change/Flickr)
Credit: Climate Policy Observer